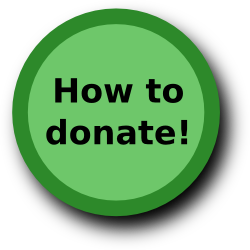 As you may or may not know, ministries such as these rely heavily on financial support from individuals who are willing to be involved in the ministry. PowerToChange is a non-profit organization and, as such, my living expenses are paid for by generous individuals who are willing to partner with me in this ministry by donating their finances. The donated funds go to a special account within PowerToChange and out of that account my salary and expenses are paid.
Being a financial partner in this ministry allows you to be an integral part, directly impacting many people's lives through the work that I do on the internet. It allows you to see direct results and gives you the opportunity to be involved in Christian ministry in a way that maybe you had not previously considered. It also allows me to continue to focus on the ministry God has called me to here at PowerToChange.
All donations are tax deductible, and you will receive a tax receipt for amounts that you give.
Giving by Credit Card:
You can donate to us by credit card, right away on the SECURE giving page of P2C::Digital Strategies website.
Giving by Cheque:
If you prefer to give by cheque, please make the cheque out to Power to Change, put my name (James Warkentin) in the memo field and mail to the following address:
Power to Change Ministries Attn: Partner Care

30439 Great Northern Ave

Abbotsford, BC V2T 0J6
Automatic Bank Withdrawl:
Another way to give is through automatic bank withdrawl.  If you would prefer this method, please let us know and we'd be happy to get you the appropriate forms.
Recommending us to Friends:
One of the issues we have struggled with quite a bit recently is the fact that we're running out of names of people to talk to about this.  If you know of anyone who might be interested in helping us, or who would like to hear about what we're doing, we would love to get a referral.  One easy way to do that is through FaceBook.  To get more updates on what we're doing, simply LIKE the page.  Or share it with your friends!
Get Our Newsletter
Get Newsletter!
Want to receive our newsletter? Subscribe by email!